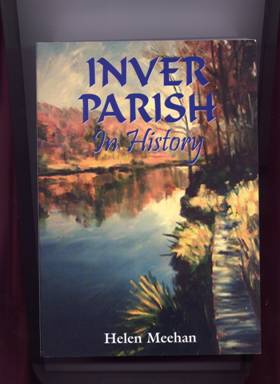 Helen Meehan nee Montgomery was born in Ballybrollaghan, Frosses, Co Donegal in 1937. She was educated at Frosses N.S., Colaiste Brìde, Falcarragh [Loreto Nuns] and Carysfort Training College where she graduated as a primary school teacher in 1957. She then taught for three years in a Loreto convent School in Dublin. She was appointed in Frosses N. S. in May 1960 and taught there until her retirement in September 1998.
In 1963 Helen married John Meehan of Coolum, Mountcharles – they have 4 children, Dr. Eucharia, Rosaire, Edward and Roberta.
Helen was always interested in history, folklore, genealogy, etc and is an active member of the Donegal Historical Society. She contributes regularly to their journal, "The Donegal Annual" "Due North" [Journal of the Federation of Ulster local Studies, Belfast, "Bealoideas" [Journal of the Folklore Dept., of U.C.D.,] "Journal of Clan Montgomery" USA 'Spark' [Journal of the Border Counties Collective] and many local history productions, commemoration, school reunions, church centenaries, etc. She is a contributor to the forthcoming Dictionary of National Biography.

The book is in three parts.
Part 1. FROM THE DAWN OF HISTORY TO THE 21st CENTURY.
Part 2. PEOPLE AND PLACES.
Part 3. FOLKLIFE AND FORKLORE.

728 pages packed with local history from Pre -Celtic Ireland, The Ulster Plantation, Local Ascendancy Families, Penal Times to the schools, churches, old crafts, emigration, the Fight for Freedom, the Civil War etc. this is just a very small example of what is between the pages, all of them totally interesting.

Helen will post the book anywhere.
The book can be obtained from:

Helen Meeham,
Coolum House
Mountcharles
Co. Donegal
Ireland
Postage is as follows.
Price: as of 27 March 2006 (Second Edition)

Ireland €30.00 plus €7.00 postage and packing.
UK: £19.00 plus £8.00 postage and packing.
U.S.A: $33.00 plus $12.00 [surface mail] or $22.00 airmail P&P.
Australia: $35.00 plus P&P.$15.00 [surface mail] or $25.00 airmail P&P
NZ: $39.00 plus $18.00 P&P [surface mail] or $29.00 airmail P&P
Rates: subject to change.
---
You may link to this website but not copy the material
The automated and/or systematic collection of data from this website is prohibited.
[Home] [Research Data] [Back] [Links]

Send mail to Bob's E-Mail with questions or comments about this web site.